Merah Muda means pink in Indonesian which is Misha's favorite word, and also happens to be her daughter's favorite color. Her colorful range of inspirational designs for bags offer a truly fun and personalized flavor for children and adults. We love that her designs are simple and unique at the same time, and she is not afraid to use a cheerful mix of fabrics, patterns and colors in creating one-of-a-kind bags that are so happy and cheerful. And, can you believe the bags are made out of used fabrics and tshirts? They are just so amazing and the details made them so special.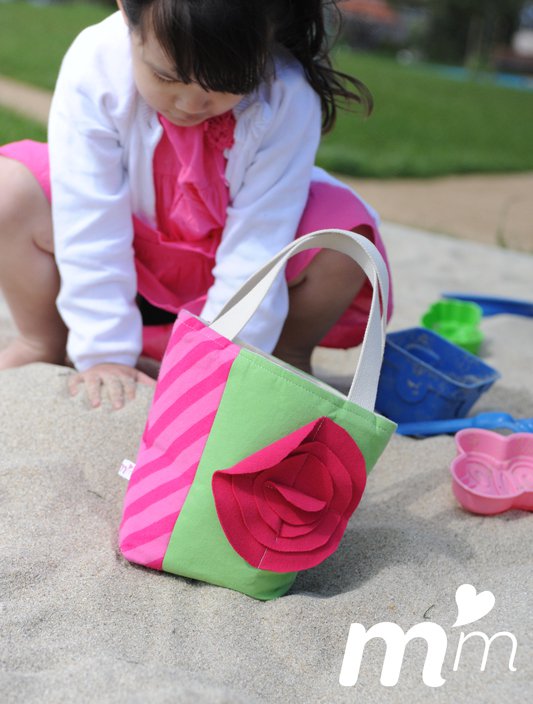 1. Tell us a bit about yourself and Merah Muda. How do you get the name?
I live in Los Angeles with my husband and 4 year old daughter Sinta. My husband Thomas and I are freelance motion graphic designers. My husband was born in Bali and I have been learning Indonesian with my daughter. We learned to say all the colors and numbers. And my favorite words to say is "merah muda" which means pink. Which also happens to be my daughter's favorite color.
2. How did you get started in doing what you do? How long have you been creating?
I was always into drawing and crafts. When I was little, I had some Cabbage Patch dolls and started making clothes for them. I was too young to use the sewing machine so I hand stitched all the outfits. Crazy, I know. I grew up with several creative talents in my family. My grandmother and aunts loved to sew and paint. And my grandfather made furniture. My grandmother made me my favorite doll. I called her Jingles. And she would give her "surgeries" every time we'd visit. Later on, my grandmother and aunt made quilts for all the women in my family. I have several blankets and quilts from them including a wedding quilt and a baby quilt for Sinta.
Merah Muda was started in 2010. Freelance work had slowed down so I took the opportunity to get my online shop going and it's been doing great ever since.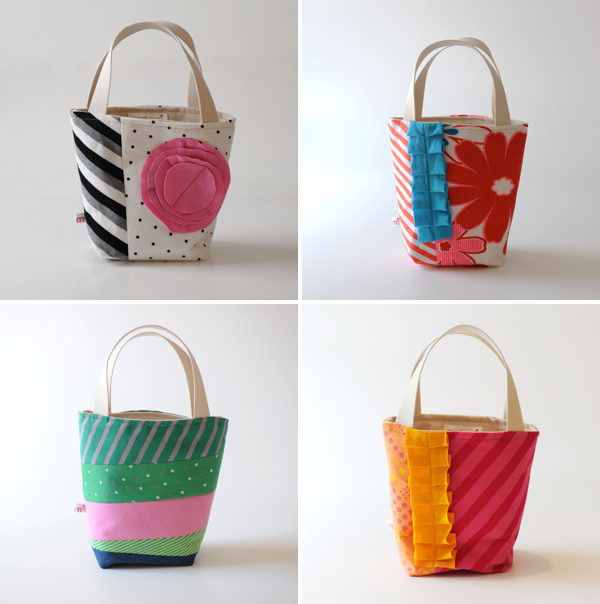 3. What was your first creation? Do you have a favorite?
As I mentioned earlier, probably the doll clothes. And my favorite creation is usually whatever I made last. I also made my daughter some skirts for her birthday.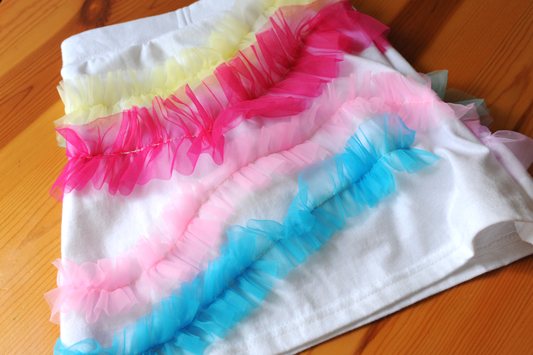 4. We absolutely love your one of a kind mini totes, they are all so colorful and fun. What inspires you?
My daughter. Also living in Los Angeles, there are a lot of trendy kids. I like to check out their clothes at the park or at school. Plus there are so many fabulous kid clothing designers online. They inspire me with their daily creations. It motivates me to keep creating. I also like to incorporate my graphic design skills into the bags. I like making original silk screen illustrations on the bags. My husband helps out with some adorable dinosaur, fairy and bookworm illustrations. It's a family business.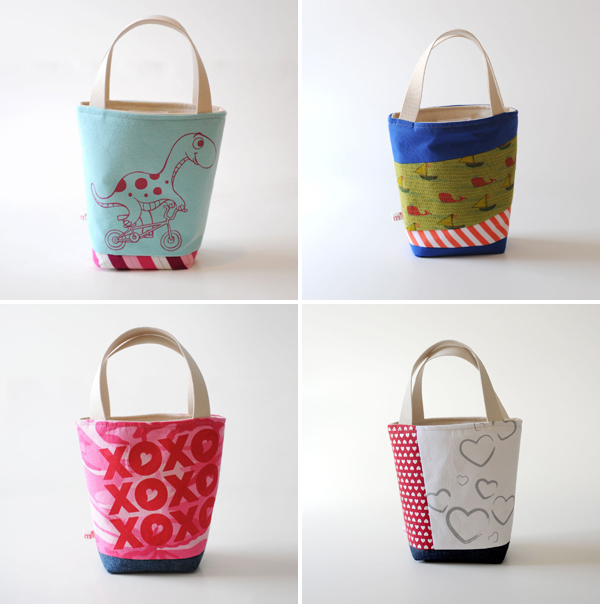 5. What is your favorite kind of fabric?
Knit, can you tell? I find it easy to work with. Plus I can embellish it with silk screen art. I really like using existing clothes to create my bags. It makes me feel better about what I'm doing. Encouraging the next generation to not be as wasteful.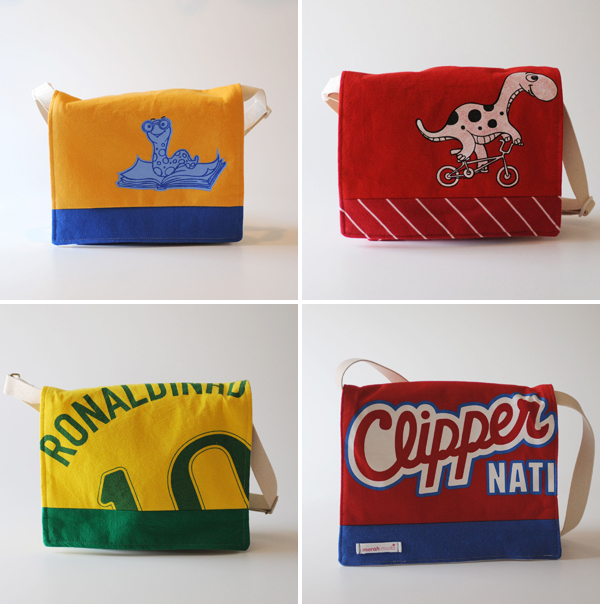 6. How do you find balance between your creative life and your family?
They are very much connected in our house. Since my husband and I are both graphic designers working from home, we often talk about work and design. And my daughter and I are always doing art/craft projects. I recently found her a bag decorating kit where she could put foam stickers on a tote bag. She loved it. I typically work from 9-3 then pick up my daughter from school. She has her activities then dinner. And I get back to work after she goes to bed when needed. I make bags and promote my business between freelance jobs. I find that evenings are the best time to sew. It's the longest chunk of time that I can focus.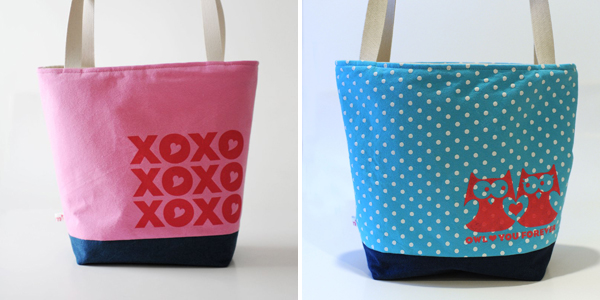 7. Apart from creating, what do you do?
I like to exercise when I can. Running is fun for me. I like zoning out. I also love photography. Before my daughter came along, I was shooting weddings. A lot of work but really fun to be a part of a couple's important day. And I try to enjoy my daughter as much as possible. She takes dancing and swimming lessons. Between that and her friends, she keeps me busy.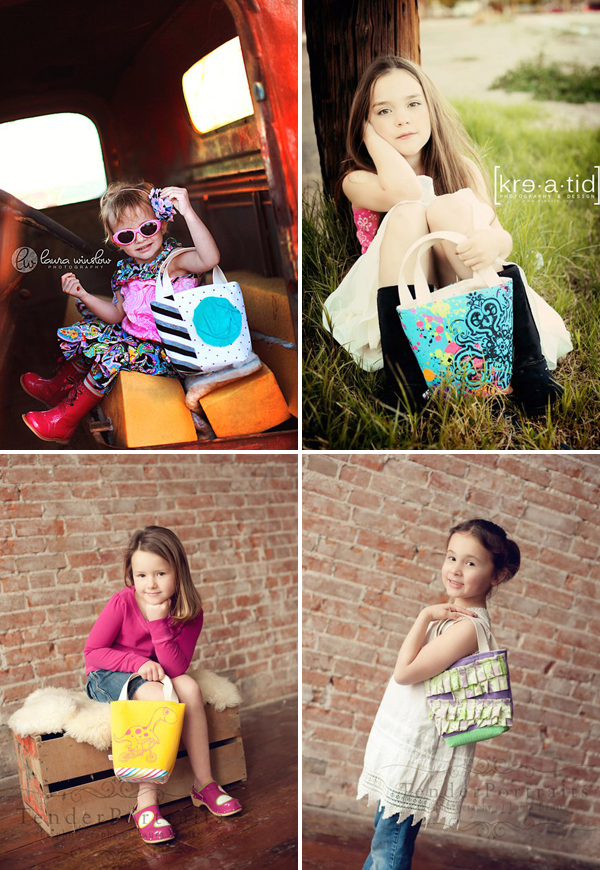 8. Do you have a favorite color?
My favorite color is merah muda (pink) of course. I like paring it with greens and blues. I love working with vibrant colors in general.
More of Merah Muda's creations:
Luulla store: http://www.luulla.com/store/merahmuda
Facebook page: http://www.facebook.com/merahmudaispink