{The Handmade Story} Caroline Rose Art
Posted on June 20, 2011
Caroline's cheerful artwork is a reflection of the style she adores, every piece of her work is as happy and inviting as a warm summer day. Inspired by gorgeous colour and pattern, her designs combine adorable characters from fairy tales, beautiful spring flowers, and her favorite animals from the zoo, with unexpected touches of whimsy. We adore her happy little workspace that is always surrounded by shades of her favorite colours from her collages and with beautiful sunlight pouring through the window right over her work table. Just simply lovely.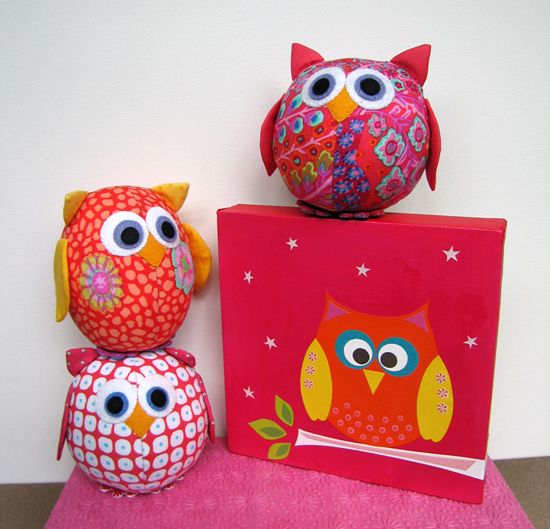 1. Tell us a bit about yourself and Caroline Rose Art.
I'm an Australian living in the UK with my partner and our two children, Milly 8 and Tom 4. We are very happy here, but I do miss the sunshine. I started Caroline Rose Art while at home with my children, to see if I could grow a business from my art. It is really important to me to be able to take the children to school and pre-school and pick them up afterwards and to be there to hear about their day. My art is a celebration of colour and whimsy, two things which make me very happy.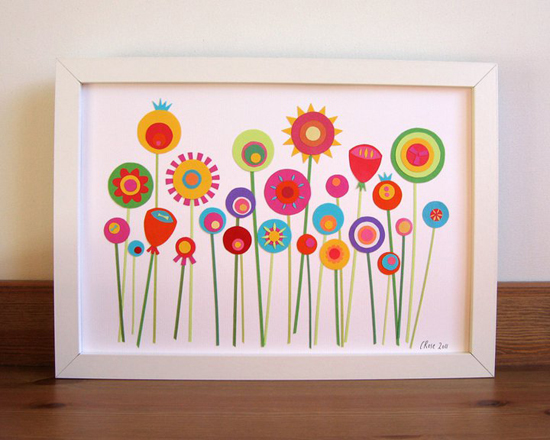 2. How did you get started in doing what you do? How long have you been creating?
I can't ever remember not wanting to create. My Mum is an amazing quilter, needleworker, cook and gardener and my Dad is a brilliant photographer, so I was surrounded by all sorts of different creative outlets. We had a box full of craft materials called 'The Busy Box', it was so wonderful to rummage through and then let our imaginations run wild.
I studied Fine Arts and Interior Design at Uni and was working as an interior designer until I had my daughter. When my son was 1, I really needed to get making again, so I took advantage of being at home with the children to explore different crafts. I thought I would settle on textiles as I really enjoy sewing and playing with fabric, but then I discovered collage, and I completely fell in love with it. I love paper, I love how clean a cut line is. I now have drawers full of paper and a box full of ideas!
I still sew as well. I make fabric giraffes and my newest creation – my owls. I really enjoy the process of pattern making (I am self taught so it can be challenging) and I love to rummage through my fabrics, especially my quilting fabrics, the designs, colours and patterns can be so wonderful, I often wish they were available as papers! It is really nice to be able to create using different mediums, I think it keeps it from getting boring and repetitive.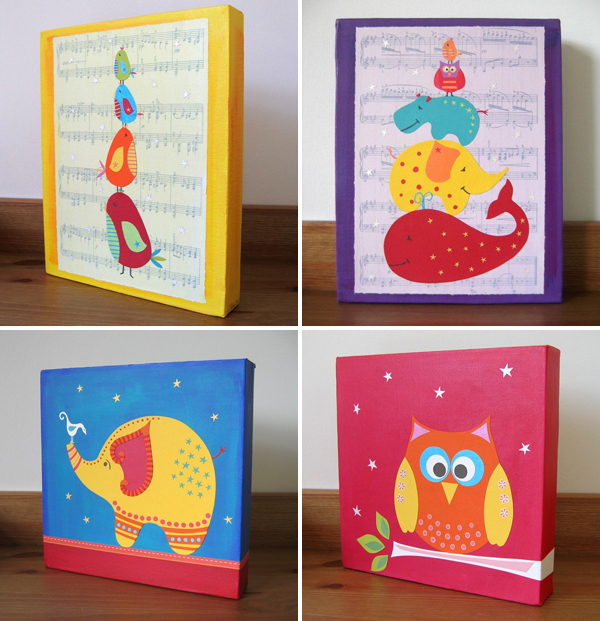 3. What was your first creation? Do you have a favourite?
My first collage was called 'Whimsy and the Boat', it hangs in my daughters bedroom. I made it using fabric and paper on a painted canvas, but I wasn't entirely happy with the fabric, so I now just use paper. My art has evolved quite a bit since then. My favourite at the moment is 'The Paper Peacock' because it is quite different from my older works and I love the curves. I also love 'Magnoila Blooms and Birds' as it reminds me of what a beautiful spring we have had. It can be quite hard to part with my original collages, but I have held on to some that I just couldn't give up, like 'Twisty-Twirly Town' and 'The Town Around the Moon', these two hang together in my lounge.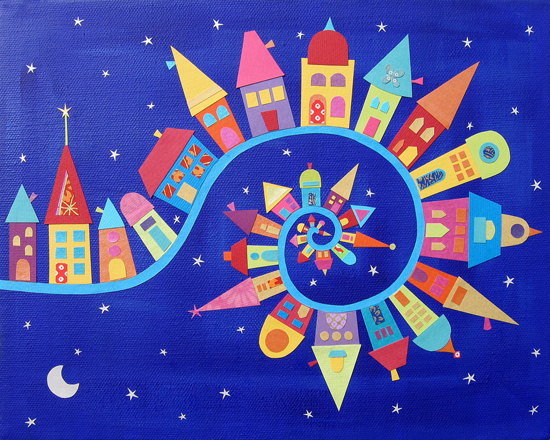 4. We love how you use lots of bright and vibrant colours in your designs. What inspires you?
I love colour! Colour makes me really, really happy. Clean, bright, clear colour, especially red, yellow and aqua. I have tried using pastel colours and 'muddier' colours, but I'm never happy until I have replaced them with bright ones! I'm inspired by random things, beautiful spring flowers, the changing seasons, a trip to the zoo, children's books that I read to my son. Sometimes just a word or phrase in enough to pop a picture into my mind. I find it happens the most when I let my mind wander, like waiting for the kettle to boil, or walking to school.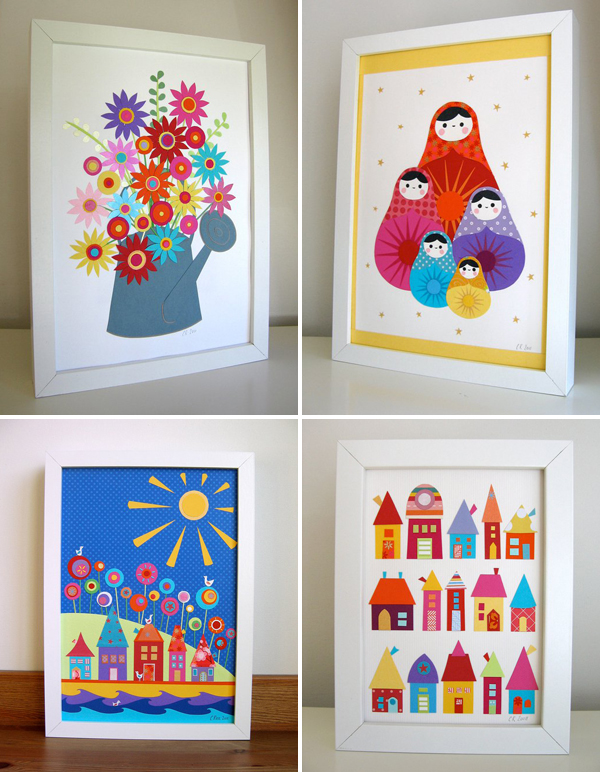 5. How do you find balance between your creative life and your family?
I find getting the balance right is really hard, and as my business is growing, it is getting harder. I used to be able to work purely in the mornings whilst my son was at pre-school, but recently work has been trickling over too much! It will be much easier in September when Tom starts school and I can get all of my work done during school hours and then shut the door on it when it is pick up time (that's the plan anyway). I'm looking forward to more quality time with the children and not having to work every spare minute I can.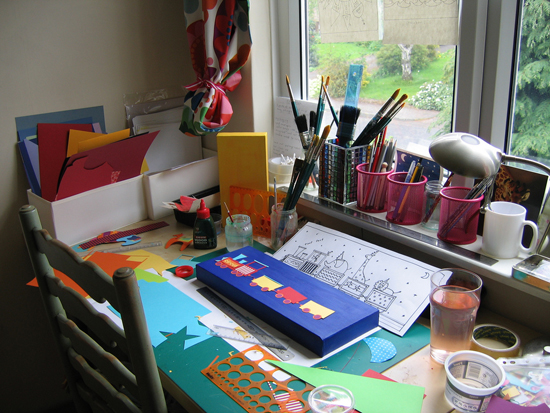 6. What is the story behind the beautiful stuffed owls you made?
I have always loved owls and I use them in my collages a lot. I love anything whimsical. The first stuffed animal I made was my giraffes, I really enjoyed the process of pattern making and trying to solve design problems of turning a 2D image into a 3D shape. I wanted to try something a bit different and as I had made my children some various types of soft owls in the past, I was thinking that I would try making a really fat, round owl. So a day of trial and error, 4 patterns later, and I had my owl! They are actually based on a collage of mine called 'Perched'. Of course, it was also another excuse to play with my fabrics!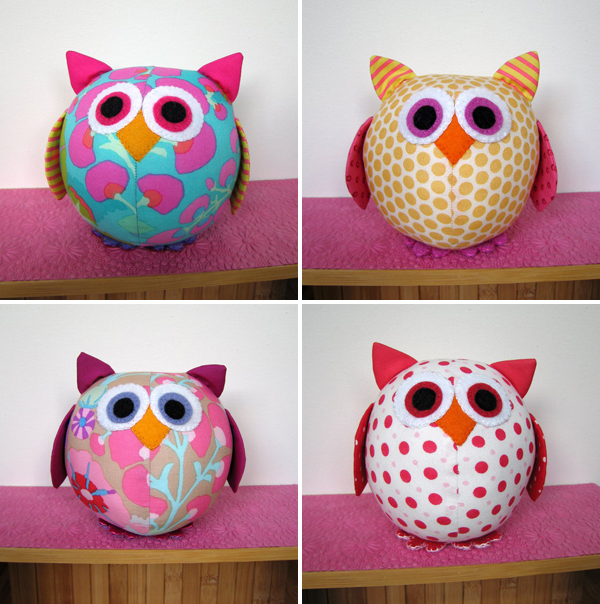 7. What is your favourite animal?
My favourite animal is the giraffe! I love their towering height, their gorgeous soft eyes and they have the most amazing eyelashes! I can also spend ages watching the little birds hopping around in my plum tree, especially when all of the leaves have fallen. Most of my collages have a bird or two hopping around somewhere!
8. What have you made recently?
Lots of owls and a new herd of giraffes for a couple of Summer craft fairs! I am really, really itching to get back to cutting some paper and making collages again and I have a head full of ideas! Ooh I also have a fabric penguin in the making!!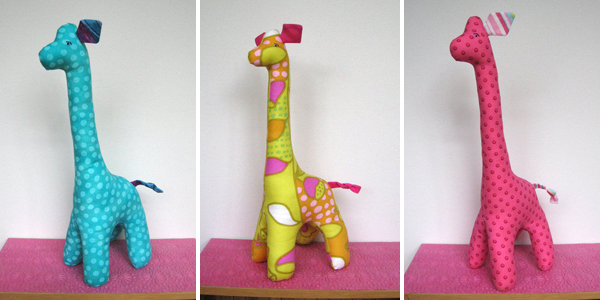 More of Caroline Rose Art's creations:
Luulla store: http://www.luulla.com/store/CarolineRoseArt
Caroline Rose Art's facebook page: http://www.facebook.com/pages/Caroline-Rose-Art/166772936705497